The development of Micro LED display technology has further materialized in 2019 in the form of more solid applications presented in big trade shows. Micro LED products demonstrations marked the intensified collaboration between industry players in the supply chain across the world. Researchers, chip makers, panel producers, equipment providers and application device developers have intensified their cooperation to accelerate Micro LED technology progress.

Since the beginning of 2019, many companies have announced their Micro LED progresses and plans. Follow the updates of LEDinside to keep up with the latest developments of the industry.

Asia

Samsung Showcases Micro LED Display
This year at CES 2019, Samsung once again created a sensation with its modular Micro LED display. The chip size of the new 75-inch Micro LED display is only 1/15 of that used in "The Wall" shown in 2018. Therefore, the 2019 version was considered to be the "real" Micro LED display. LEDinside learned that Samsung used its own technology to mass transfer chips from Taiwan's PlayNitride to glass backplanes to achieve the display.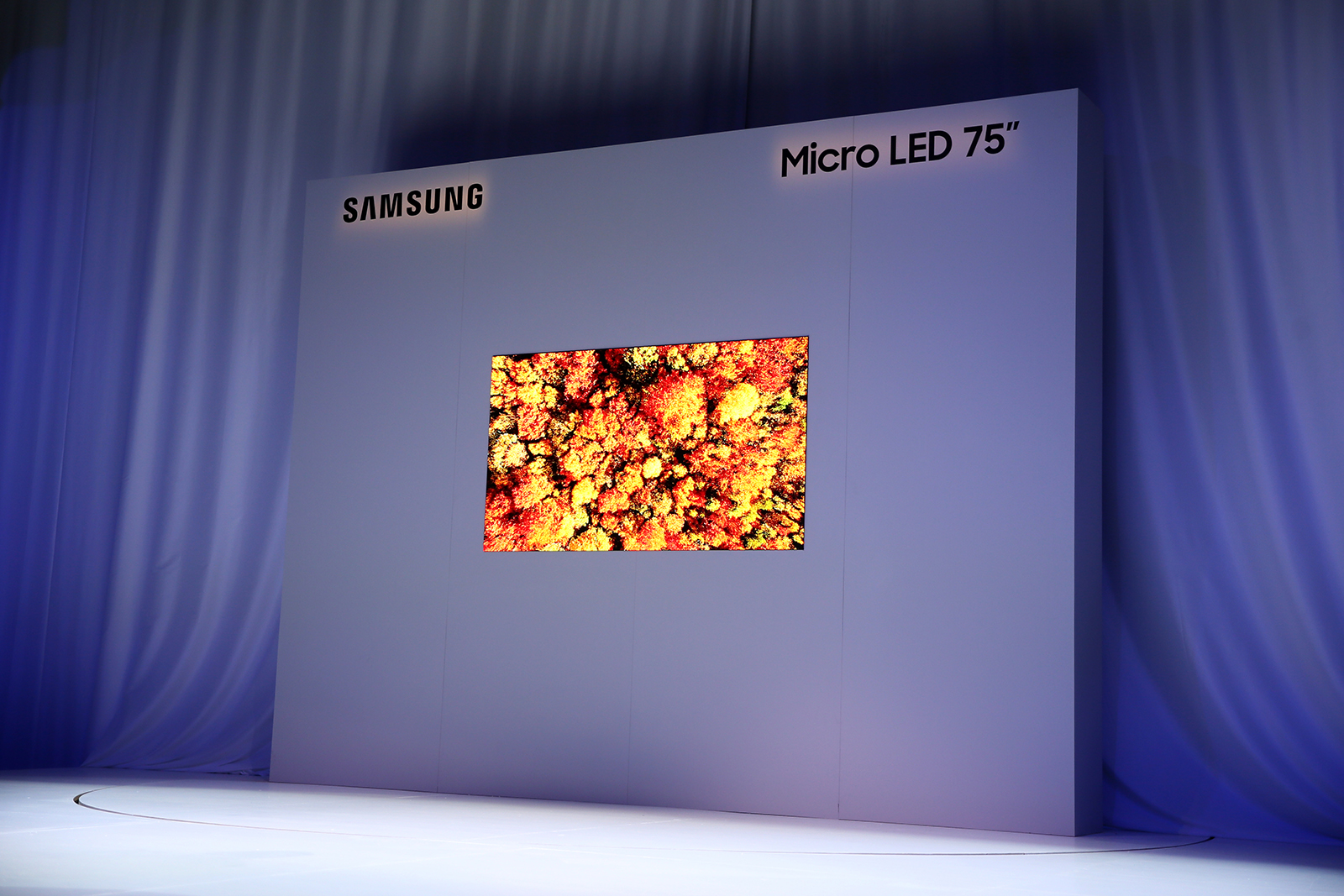 (Image: Samsung)
Sony reveals Micro LED display installation; Toray introduces equipment for Micro LED production
Sony announced the progress of its Micro LED technology, CLEDIS (Crystal LED Integrated Structure) at NAB 2019 in April. The company is setting up a 16K Micro LED screen in Japan for the cosmetic group Shiseido. Japanese equipment supplier Toray showcased solutions for Micro LED wafer inspection, repair and transfer. It provided products to detect scratches, cracks, or any missing parts for Micro LEDs and the Flip Chip Bonder equipment is capable of mass transferring Micro LEDs. Moreover, Toray also offered laser repair equipment to remove defected Micro LEDs and then selectively transfer good Micro LEDs to complete the repair process.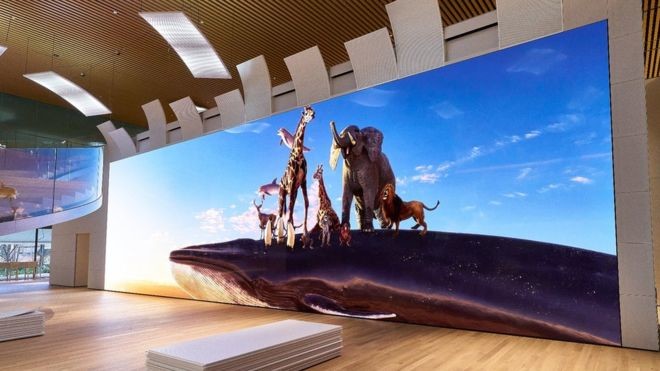 (Image: Sony)
Sanan adds CNY120 billion Micro LED investments
Meanwhile, Chinese industry players increased investment in Micro LED to catch up with other Asian countries in technology development. Sanan Optoelectronics announced a plan to invest CNY120 billion (US$ 1.78 billion) in Hubei, China for Micro LED and Mini LED wafer and chip development and production. China's panel maker BOE formed a joint venture with Rohinni to develop Micro/Mini LED-based backlights for LCD displays. Moreover, Unilumin announced its plan to build a new facility for Micro/Mini LED development and production with smart manufacturing. At the MWC 2019, a 5G equipped Micro LED display was presented by the Fibocom International Alliance, who focuses on 5G IoT devices with wireless communication technology.

Taiwanese manufacturers continue development; Foxconn keen to push Micro LED development
As the most motivated players, Taiwanese LED suppliers have continued their Micro LED technology development. LED driver IC design specialist Macroblock was said to launch Micro LED products for AR/VR devices soon. The company also supplied the driver IC and light board of the 5G Micro LED display shown in MWC. LED producers Epistar and Lextar, who have begun shipping Mini LED products since 2H18, have continued Micro LED development. PlayNitride, who supplied chips Samsung's Micro LED display, also showcased a 5-inch and a 3.12-inch Micro LED displays at CES 2019. The bigger one is featured with transparency and a resolution of 350*170, while the other was consisting of 786 thousands Micro LED chips (DPI 232) with a resolution of 256*256. Equipment makers SAULTECH and GMM planned to roll out facilities for Micro LED sorting and binning as well as mass transferring.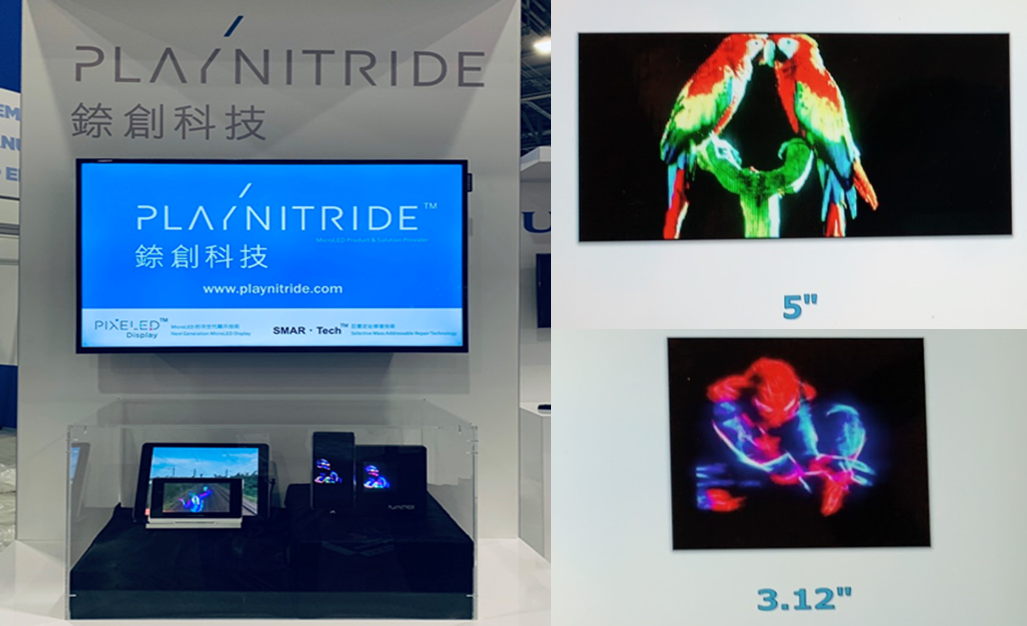 (Image: PlayNitride)
The Foxconn group recently announced that it might include Micro LED production lines in its progressing Wisconsin factory. After acquiring eLux in 2017, the company continues to strengthen its Micro LED development. With subsidiaries including AOT, Epileds and Marketech, plus eLux, Foxconn is building its own supply chain for Micro LED production.

Research institutes including Taiwan's Industrial Technology Research Institute (ITRI) and National Chiao Tung University (NCTU) also continued releasing technological breakthroughs in Micro LED development. NCTU has improved the light-emitting intensities of Micro LEDs by 143.7% using ALD passivation layers deposited with PICOSUN™ ALD equipment. The NCTU research team also developed a microscopic imaging system for Micro LED testing and wavelength tunable full-color monolithic Micro LED displays in cooperation with Xiamen University.

In addition, with the establishment of the Consortium of Intelligent Micro-Assembly System (CIMS), ITRI connected the industry players in Taiwan as well as deepened its research in Micro LED technology. The organization is currently working on AR devices with Micro LED technology for gaming applications.